for some reason this post didn't publish on friday like i told it to, so here it is.....late. oops!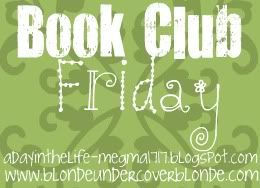 hi friends! it's book club friday over at heather's blog so i linked up cuz y'all know how i love me some books. seriously, my unread book collection is out of control at this point. right now i'm reading this....


this is basically a series of short stories by one author. i've just finished the first one and it was pretty good. this is a book that was highlighted and reviewed in people magazine some time last year. it received really good reviews so i thought i'd give it a try and put it on our book club reading list. i'll let you know how it is once i finish it.


before this book i was reading this....



SO good! this is one of those books that really just makes you sit back and take a look at how you live your life. it challenges you to live a life of complete obedience to God. great book!
so what are you reading? go link up with heather so we can all see!