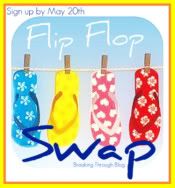 i had the pleasure of participating in a flip flop swap hosted by lyryn from the amazing blog
breaking through
. it was so much fun! i was paired up with susan from
the life of susan
, who i happen to be a fan of and who happens to be related by marriage to lyryn. anywho, here are the goodies i found on my doorstep last week.
now, anyone that knows me knows how i love the gap so these are right up my alley!



and then, because she's so awesome she also hooked me up with these beauties...



i have really enjoyed this swap. susan, thank you so much for all my goods!